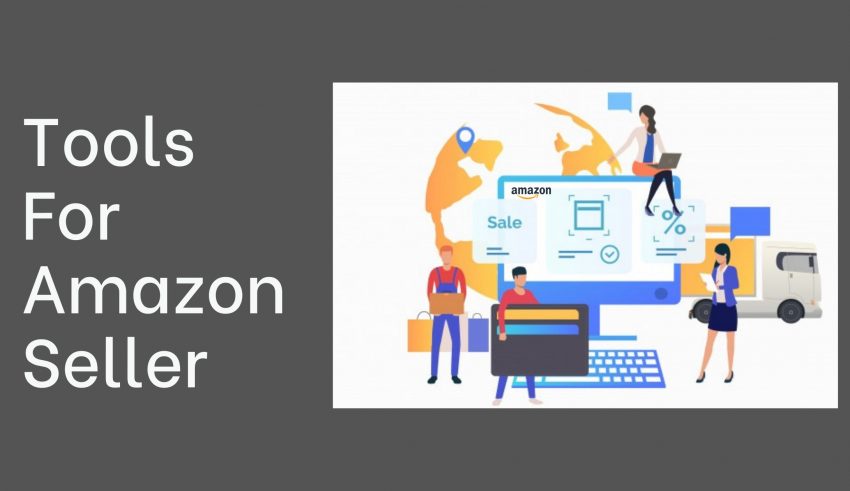 Amazon.com, Inc. is an American multinational technology company, considered one of the Big Five companies in the US information technology industry, along with Google, Apple, Microsoft, and Facebook, and was founded by Jeff Bezos in 1994. The establishment has been referred to as "one of the most influential economic and cultural forces in the world."
The company commenced as an online marketplace for books but with time expanded to sell software, video games, electronics, apparel, jewelry, furniture, toys, and food.
Amazon distributes downloads and streaming of videos, music, and audiobooks through its subsidiaries – Prime Video, Amazon Music, Twitch, and Audible. Amazon also has a film and television studio, Amazon Studios; a publishing wing, Amazon Publishing; and a cloud computing subsidiary, Amazon Web Services.
Amazon has one of the most evolved and advanced fulfillment networks in the world. With Fulfillment by Amazon (FBA), you store your products in Amazon's fulfillment centers, while they pick, pack, ship, and provide customer services for your products.
When someone comes across your Amazon FBA listing, looks at the product, and eventually buys it from Amazon, you make money. It is an uncomplicated process where Amazon ships the product to the customer while you only have to ensure sufficient stock to meet the demand of the market.
Following is a breakdown of the Amazon FBA business:
Set up an agreement with the supplier to provide you the products
Ship the product from the factory to North America
The products are housed at the warehouse owned by Amazon
When people buy your products off Amazon, Amazon "fulfills" the order by operating all of the logistics, including shipping and customer service. E-commerce in 2020 is a lucrative side hustle everyone wants to be a part of. Amazon FBA has aided many entrepreneurs in launching their first Amazon store. Here it is possible for any newbie to build a business that starts to generate a regular income in a relatively short time.
Having said that, selling products on your Amazon FBA store can be very taxing amidst all the product research, marketing, managing orders, collecting reviews, and more. Fortunately, there are various online tools available that do the heavy lifting for you and streamline the process.
Here are the best Online Tools for Amazon FBA Sellers listed below:
1. Jungle Scout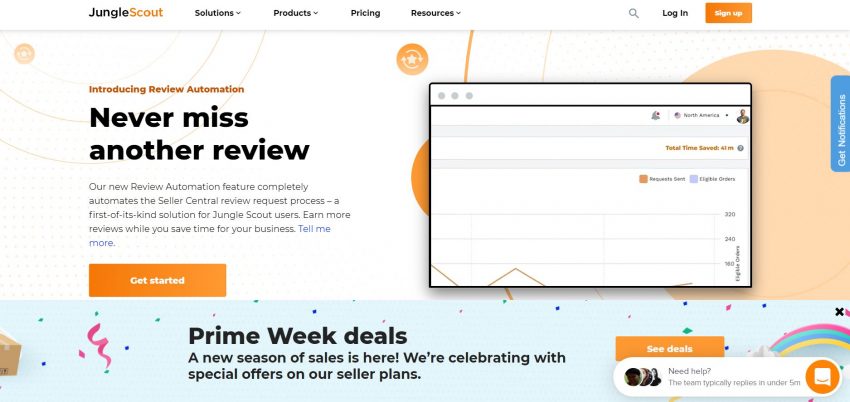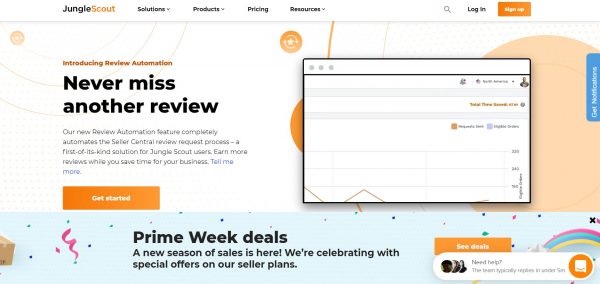 Jungle Scout is an all-in-one platform and a great online tool for Amazon sellers. It is available as a web app and Chrome extension, making it extremely convenient for you to browse products and supervise your account.
Once you download Jungle Scout, you do not have to worry about downloading several other tools as most of the features that you will require to manage and grow your Amazon business are available on this one platform.
Jungle Scout is a very convenient, functional, and versatile platform for your Amazon business. You will be able to start using the application right away owing to its intuitive interface. Additionally, if you run into trouble, Jungle Scout has a number of clear video tutorials, thorough and meticulous step-by-step guides, and a helpful customer service team.
Jotted below is a compact list of some of the noteworthy features of Jungle Scout:
Sales Analytics to track your profits
Product Tracker to monitor the product's performance over time
Inventory Manager to track the stock and sales
Product Database to research potential products
Supplier Database to find and verify high0-quality suppliers
Opportunity Finder to locate profitable opportunities
Keyword Scout to find high-converting keywords in order to boost your Amazon SEO endeavors.
---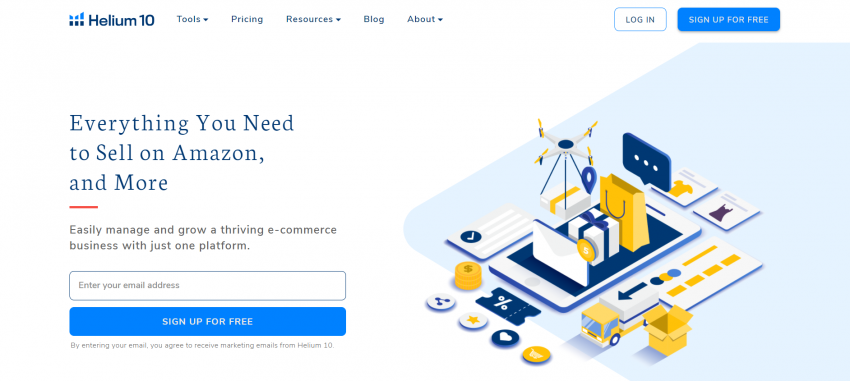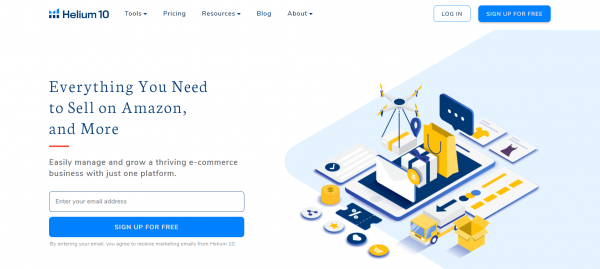 Helium 10 is an impressive and comprehensive suite of software tools designed to aid Amazon sellers in their business by putting in action its standard features, for instance, evaluating the competition, identifying product ideas and calculating their profitability, and finding keywords that drive conversion and even pairing you with high-profile misspelled words.
Helium 10's name refers to the 10 tools the product was originally launched with. Since then several other tools have been added to propel your Amazon listing.
Here is a quick look at some of the tools in the Helium 10 toolbox:
Frankenstein
Scribbles
Misspellinator
Alerts
Inventory Protector
Profits
Profitability Calculator
Review Downloader
Market Tracker
Although Helium 10's paid version is relatively expensive, but what is particularly fascinating about this tool is the free subscription which is great for those who are brand new to Amazon FBA as it helps you manage every aspect of your business on Amazon.
---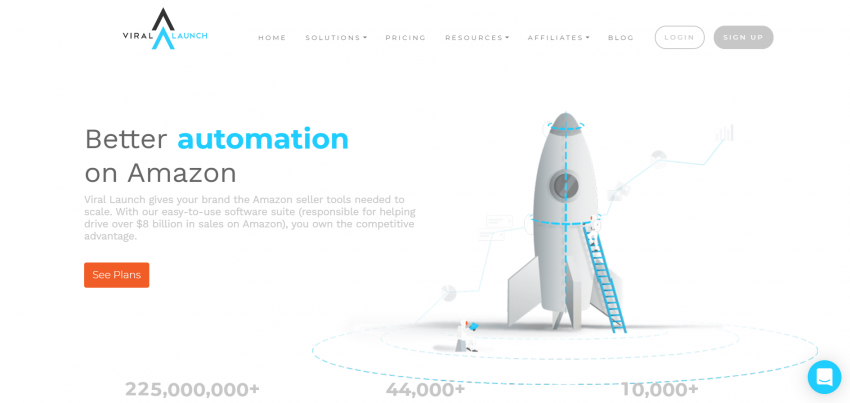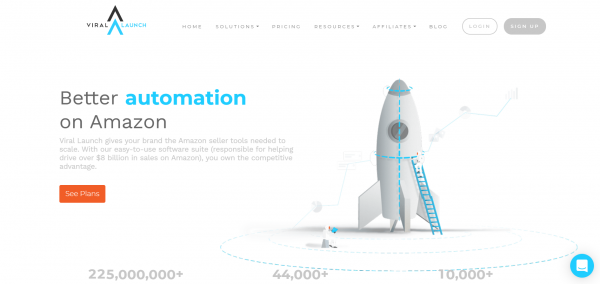 It can feel confusing and arduous to keep in touch with the ever-evolving Amazon marketplace and the unceasing updates in the algorithms. By quickly being able to analyze the amazon market and comprehend the search engine algorithm, you can make sure that your business and your products stand out among the rest.
A Viral Launch is a comprehensive tool that all kinds of Amazon businesses can benefit from. However, the most appreciated feature of Viral Launch is its optimization service. As one of the leading FBA suites available on the market, Viral Launch has aided a number of Amazon businesses to optimize the way the business is approached, enabling them to customize their online store specifically for the customers who will most likely see it.
The conversion rate optimization (CRO) service of Viral Launch allows you to test various product images and written copy against one another and estimate which alterations will drive up your conversation rates. By providing you with copywriting and photography materials, Viral Launch's experts create the ideal listing for your products.
Viral Launch offers a manifold range of tools and services that will boost your business and bestow it with innumerable benefits.
---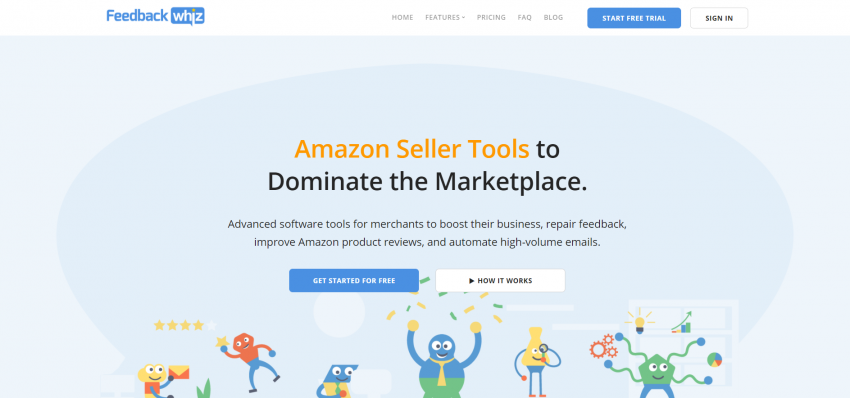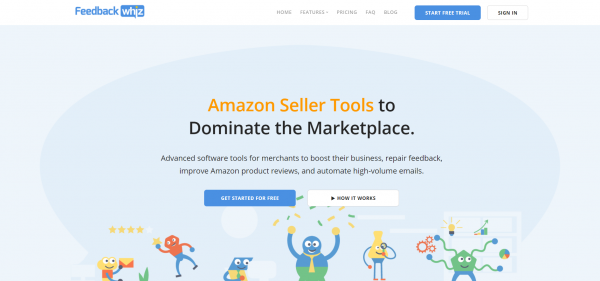 FeedbackWhiz is a platform that primarily focuses on product review analysis and monitoring notifications. It is a perfect tool for any entrepreneur who is looking for a specific client group. Thus, FeedbackWhiz can be summed up as an efficient tool that performs all sales and feedback analysis for the customers.
FeedbackWhiz is a tool that keeps you updated on every review a customer leaves behind on your products. Synchronized notifications that the tool sorts out for you allow you to respond immediately, which is crucial to build a healthy relationship with customers and maintain the reputation of your business. This tool also has a feature of email builder, which can be used to improve the seller feedback.
FeedbackWhiz also helps you appeal negative reviews and get them reviewed. Therefore, a huge number of Amazon sellers depend on FeedbackWhiz to manage their reviews.
---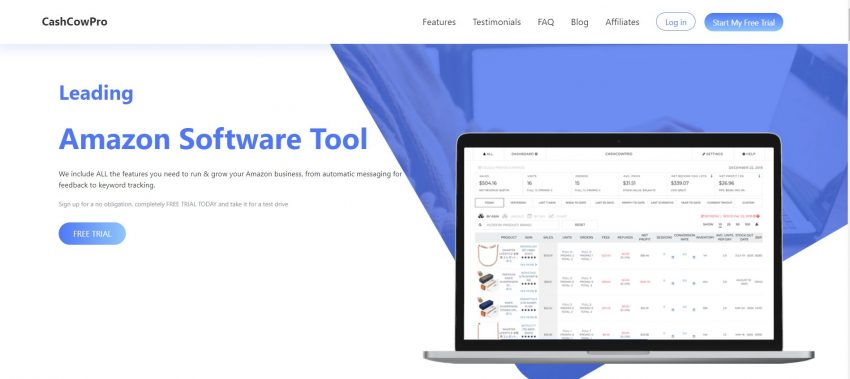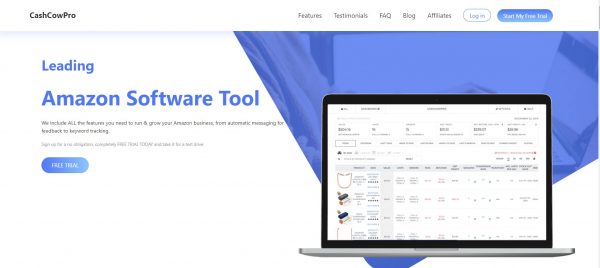 Cash Cow Pro is undoubtedly one of the best software tools for keeping tabs on the metrics including net profit and return on investment. The Amazon sales rank tool provides other metrics including sales, page view data, keyword tracking, and conversions.
Cash Cow Pro is definitely one of the most effective and powerful tools for determining profitability. It helps you track the products you are selling, modify your listings, track your potential products, showing you which projects will do good in the marketplace.
---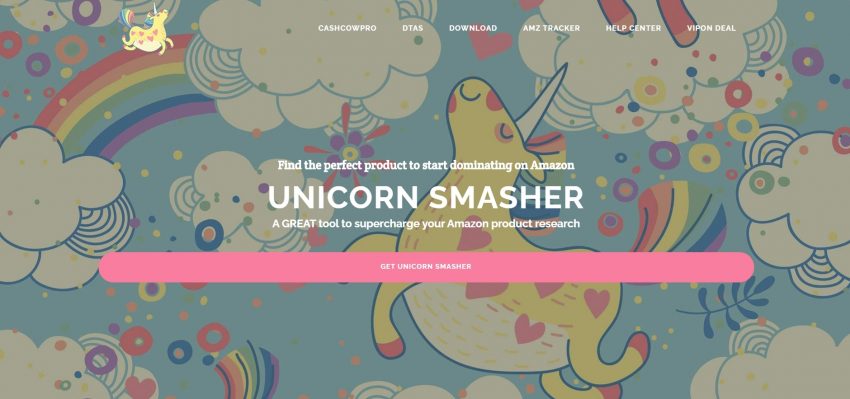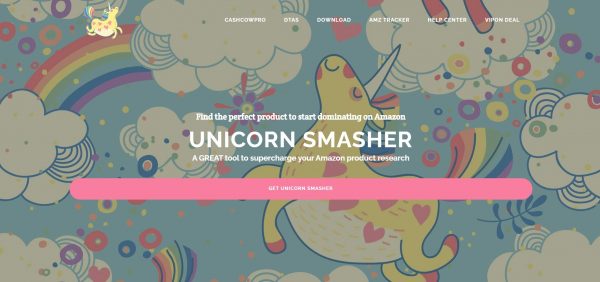 Unicorn Smasher is a versatile tool for online sellers, more effective if used together with AMZ Tracker as it provides additional insights. The Google Chrome extension is pretty standard in streamlining product research. You can search for products to receive information like name, category, price, ranking, number of competitors, estimated revenue, etc.
Unicorn Smasher has both free and paid subscription option, even though the free version has limited features, it is a good place to start. The paid version is better because of more accurate data, opportunity scores for every item, etc. Unlike other paid Amazon seller tools, you only have to make a one-time payment fee for lifetime access or license.
---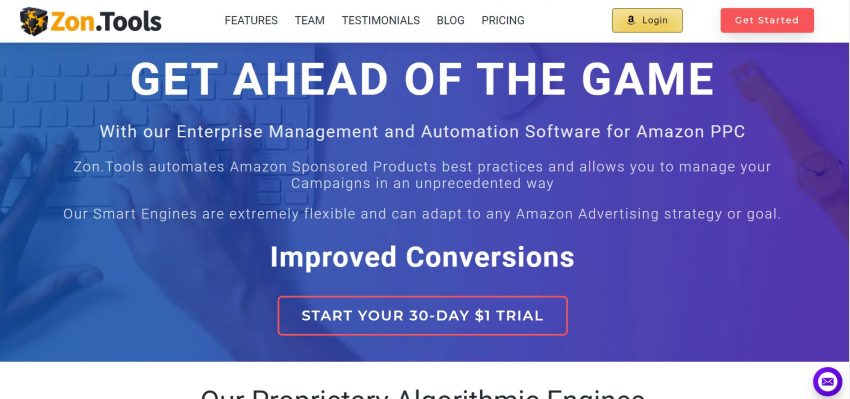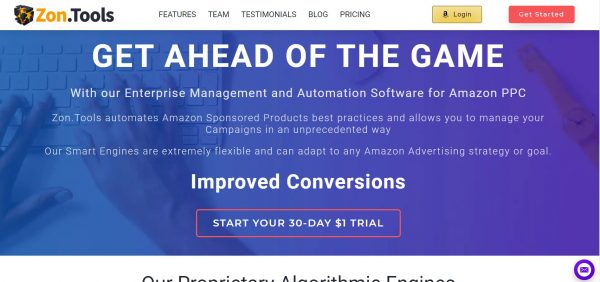 Zon Tools is a very useful tool or platform that assists sellers to manage Amazon PPC campaigns. The platform automatically generates smart campaigns and ad groups that it feels will be very effective for the business after taking guesswork. It analyzes keywords, customer details, other relevant information, and constantly feeds new data to keep your campaign up-to-date. The tool automatically makes necessary changes to ensure that you make the most out of it. Alternatively, you can analyze the tool's reports to make changes yourself.
Zon Tools is capable of managing campaigns and large data sets thus can take care of your Amazon advertising PPC campaigns and it effective across marketplaces worldwide.
---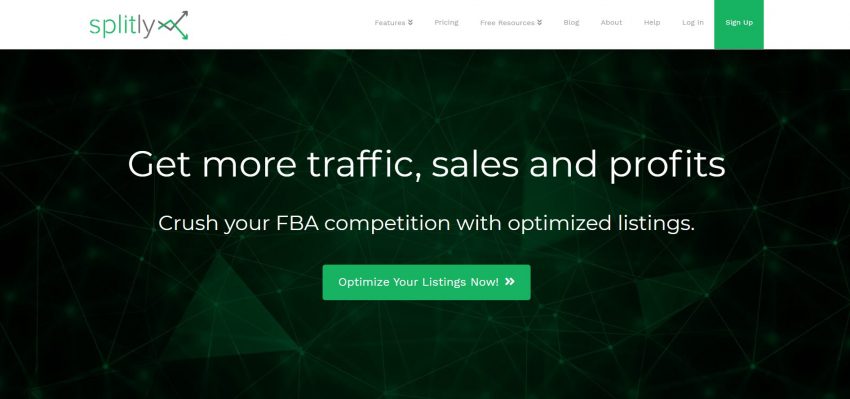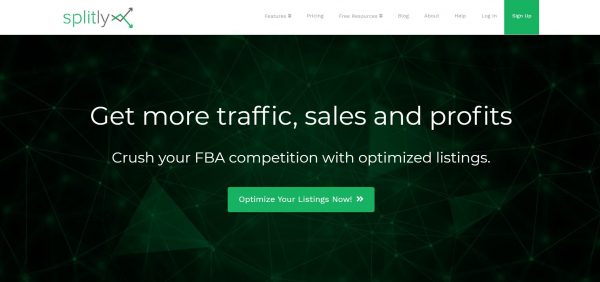 Splitly, as the name suggests, is a split-testing tool for your Amazon products. Also known as A/B testing, split testing involves running experiments to draw parallels between two variables. With the data collected, you can regulate which variable yields better results.
Splitly runs several versions of your listings to determine which ones result in the most profit. It works by testing different selling prices for your product. It further tests different item titles, images, descriptions, and other components that impact your performance efficiently. The tools use advanced artificial intelligence to keep your listing updated with optimized titles, descriptions, etc.
Split testing is extremely crucial for Amazon sellers because it aids in optimizing the listing and, therefore, the profits.
---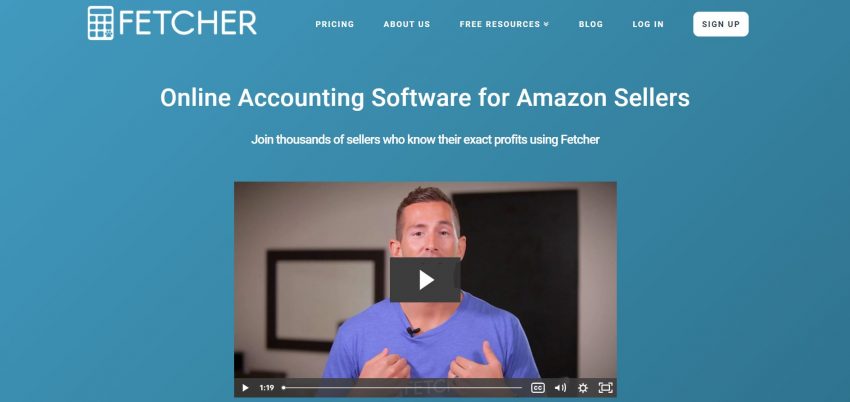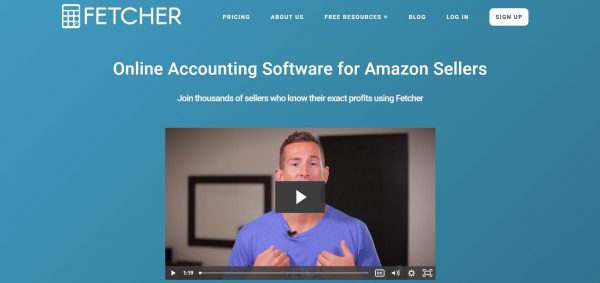 Fetcher is a significant option for managing the finances for Amazon sellers because it tracks your sales, profits, expenses, refunds, and other analytics. While the tool gives you an overview of your business as a whole, it also breaks down the statistics for individual product to monitor the performance of each of them
The most highlighting factor of Fetcher is that it visualizes sellers' data and provides information through attractive graphs and tables, thus making it easy to go through them and make adjustments accordingly.
---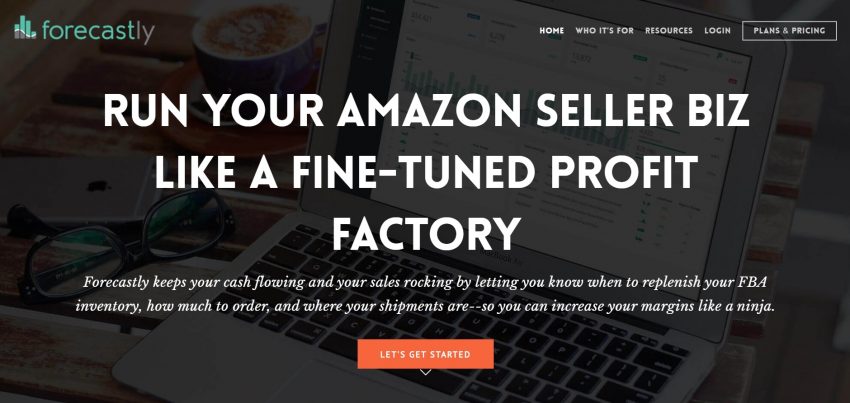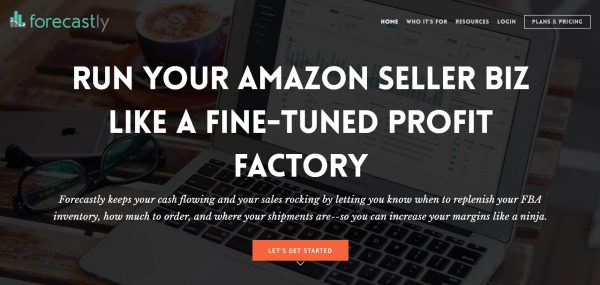 Forecastly is a reliable inventory management tool that evicts the need for tracking your inventory on a complex MS-Excel spreadsheet. It utilizes precise artificial intelligence to foretell how many units each product will sell and further using these predictions to determine when you should reorder to restock your items for you so that you don't have to manually place your order and the amount.
With Forecastly, an automated inventory management tool, you will have an optimal amount of products in stock at all times, can prevent yourself from being understocked and overstocked, and can avert losing out on sales.
---
Conclusion:
Seller tools offer you many advantages over the course of your Amazon FBA business life. The online tools discussed above looks after and complete your tasks, and make it easier and profitable for you to conduct your business on Amazon, and sell off your products.