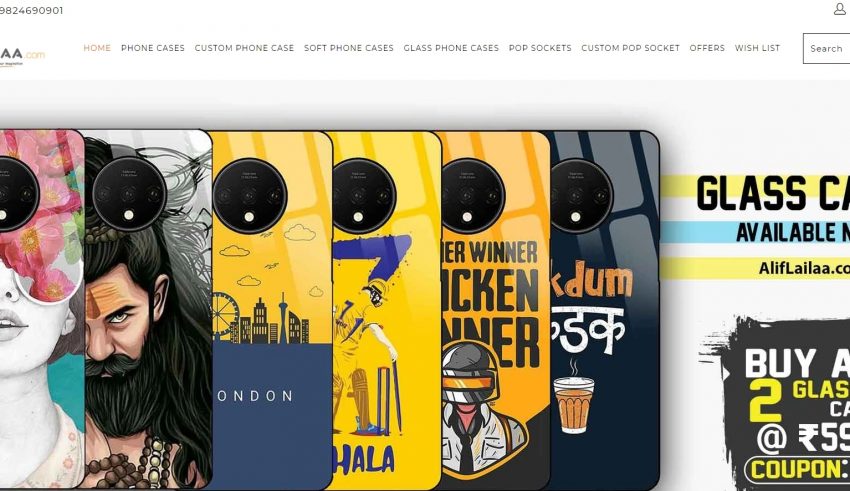 In today's world, your entire world can be engulfed inside your phone, be it your business or your social interactions. A few years back it may have seemed a little vague and unorthodox but with the global pandemic upon us, we have realized the importance and advancements in the field of technology and our phones. Anyway, our phones capture our innate personalities and are the very medium we use to express ourselves.
If that is the case, then why use mundane phone covers or pop sockets when you can give your phone and yourself a gift of quirky and customized phone covers. Not only would you feel better about yourself by expressing your personality better but you can also devour the wide range of designs and themes out there and change your cover according to your mood or the occasion.
Today we will talk about one of the websites that have broken all the boundaries with their wide array of collection of phone covers and pop sockets.
AlifLaila is one of the largest sellers of phone covers on the internet right now and also one of the best online stores in India to purchase aesthetically pleasing yet durable mobile phone covers. The website offers phone covers for renowned brands such as IPhone, Samsung, OnePlus, Vivo, Oppo, Xiaomi, Google, Nokia, and much more.
Not only that, but it also offers phone covers for all its models. So, whether the phone was launched five years back or five months back, phone covers for it are always available on AlifLaila.
If you are a geek for fandoms like Game of Thrones or Harry Potter or Sherlock Holmes, this is the spot for you. If not, the website still wouldn't fail to impress you as it has various other themes like travel, gaming, beard, coffee lovers, cartoons, and much more!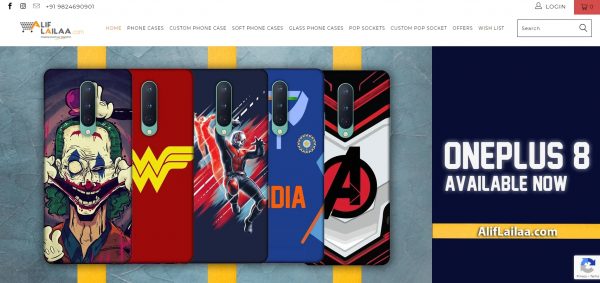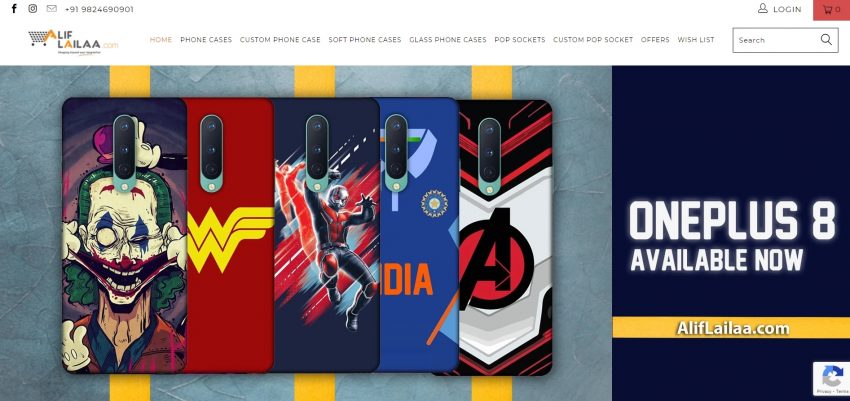 So, if you are someone who isn't intimidated by a little extra pop in their ensemble or a flair of the dramatic or isn't afraid to express their innate personality, AlifLaila is the best place for you. Give your phone a little makeover by buying a phone cover that is not only durable but also quirky and beautiful.
Whether you want a sophisticated phone cover or a funky one or an aesthetically pleasing one, AlifLaila is the stop to devour all your needs. Here is a list of features that make AlifLaila an incredible website.
AlifLaila has a diverse set of themes for all of its products. The website allows you to choose from over 20+ different themes like Indian gods, abstracts, friends, superheroes, cartoons, typography, and what not!
Apart from this, the website also impresses all the geeks out there by offering products related to Superman, Joker, The Avengers, Batman, Ironman, Harry Potter, and the list just goes on. The downside of the website is that it only offers phone covers and pop sockets but it redeems itself by offering a wide array of phone covers for almost every phone and its model out there.
As mentioned earlier, your phone cover expresses your innate personality and what better way to do it by personalizing your phone cover and pop socket. Unlike its competition, AlifLaila allows you to buy customized and personalized products from their website.
All you have to do is select the phone model, then choose a picture that you want on your phone cover and then process the payment. That's it! You have to do the same process while customizing a pop socket. The process is extremely simple and the results are satisfactory and yet personal.
As AlifLaila deals with only phone covers and pop sockets, they have mastered the product and have made it better for their clients. The website offers two different types of phone covers; one is a softcover made ideally with plastic which makes it highly durable and the second is a glass cover which is relatively fragile but looks expensive and chic.
They are both extremely affordable and have a difference of only Rs. 100. Although, the glass covers are only available for iPhone and OnePlus.
Good customer support says a lot about a company and its services. AlifLaila has an extensive FAQ page that answers all your queries. It also has an inbuilt inquiry form on the website which can be used to contact their team. If not, they can be reached through email at orders@aliflailaa.com.
They can also be reached through their mobile number i.e. +91 9824690901 from Monday to Friday (10:00 a.m. to 5:00 p.m.). However, Customer Support is not available due to the Covid-19 lockdown. You can reach them through their Instagram account in case of an emergency.
AlifLaila has some incredible offers that ought to attract customers. Some of the offers are:
BUY ANY 3 CASES FOR 399 (USE COUPON: B1G2)
BUY ANY 5 CASES FOR 499 (USE COUPON: B2G3)
BUY ANY 6 CASES AND TWO POP SOCKETS FOR 599 (USE COUPON: B3G3)
BUY ANY 10 CASES AND TWO RANDOM POP SOCKETS FOR 999 (USE COUPON: B5G5)
These are not only extremely affordable but also reasonable for minor bulk orders.
Online shopping can be daunting at times while surfing through unknown websites but AlifLaila provides secure payment options. The website offers payment options like MasterCard ie. debit or credit card, net banking, and cash on delivery.
All credit cards, debit cards, and net banking transactions are processed over encrypted connections, giving the website no access to your sensitive account details. Hence, you don't need to worry about your personal information leaking.
---
Conclusion:
AlifLaila is a fairly young and upcoming website available in the market. It doesn't have the required customer base at the moment but looking at the quality of its products and their unique designs, it ought to pick up its pace in a split second.
The feature of customizable phone covers is exceptional because no one can have as much as their family portrait or their dog's picture on their phone covers.
The website is also easily available on social media handles like Instagram and Facebook. It's pages are extremely informative and also really quirky and beautiful. So, if you love phone covers and pop sockets and are always looking for a change, AlifLaila is at your discretion.