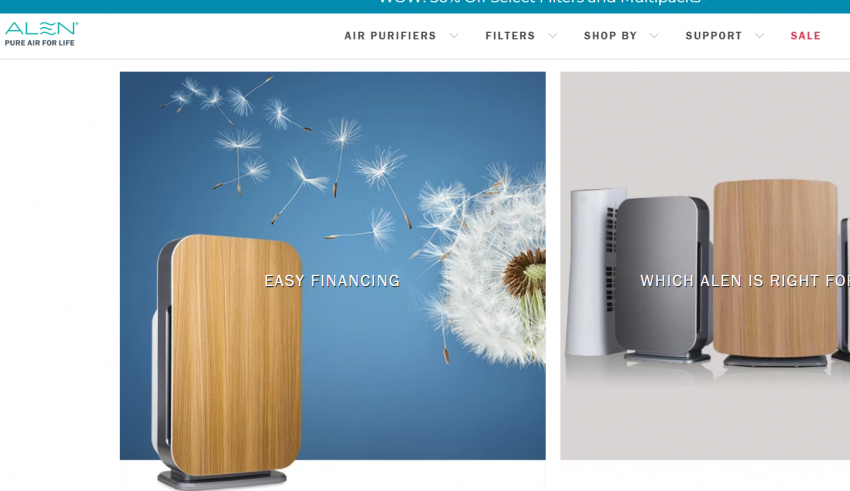 Choosing an air purifier is a tough task. But once you find that perfect unit, your life suddenly becomes much better.
From reading Other Alen BreatheSmart reviews, it certainly sounds like it's one of the highest quality air purifiers available on the market today.
The manufacturer declares a powerful filtration system, large room coverage, and numerous smart options. Is this air purifier all Alen promises it to be? In this review, we'll take a look at how good of a job Alen did with this purifier and whether it matches its formidable price tag.
3-Stage Filtration System with a Cherry On Top
The Alen BreatheSmart packs an impressive filtration system, which consists of a pre-filter, a HEPA filter, and an ionizer.
The ionizer can help the air smell fresher. It's not harmful to the environment, but you can turn it off any time you wish.
The pre-filter is simply an additional layer of filtration, which keeps large particles from entering the air purifier and contaminating the HEPA filter. As a result, the HEPA filter lasts longer. The pre-filter is easy to remove and wash. It doesn't need to be replaced.
The cherry on top is the choice you have when it comes to the HEPA filter. Alen offers four impressive options:
HEPA Pure – Regular HEPA filter, which does a good job capturing 99.97% of contaminants 0.3 microns in diameter.
HEPA Fresh – A combination of HEPA and activated carbon filter doesn't just deal with regular contaminants but fights smoke, odors, and VOCs as well.
HEPA Silver – A combination of a HEPA filter and silver ion components, which have an anti-microbial and anti-fungal effect.
HEPA OdorCell – High-quality HEPA filter created using Alen's Molecular Conversion Powder, which fights odors on a molecular level.
One of the best parts about this air purifier is that even though the initial cost is high, its TCO (total cost of operation) is quite reasonable due to a fairly low replacement filter price.
---
Beauty And The Beast: Customized Alen Design
Alen have been one of the leading air purifier companies for some time now. The. BreatheSmart is their top of the range flagship model and certainly leads by example.
The air purifier weighs a little over 20 pounds and is about 27 inches high. Even though the parameters are quite formidable, the unit itself is highly appealing.
Depending on your interior décor, you can choose between 14 panel covers of different colors. However, the white panel is the cheapest. You need to pay a little extra for the color of your choice. The control panel is located on the top, but you don't see it until you approach the air purifier. It has differently colored lights, which add to the impressive appearance of the appliance.
Overall, this unit can easily blend in with any décor, be it a bedroom or an office space.
---
Extending The Non-Extendable: Coverage Area
One of the most important factors to consider when choosing an air purifier is the area it covers. Alen did an excellent job making the BreatheSmart truly powerful.
The air purifier is designed for rooms up to 1100 square feet, which is pretty impressive. In the room of about 1000 square feet in size, the air purifier does two changes per hour. This is sufficient to keep the air clean in your home or office.
If you buy this air purifier for a room under 1100 square feet, it will clean the air faster.
Alen BreatheSmart seems to be an excellent choice for large rooms, apartments, and office spaces.
---
Quieter Than a Computer: Noise Levels Checked
This purifier is quiet. Especially when the fan works at its lowest speed. If you are looking for a quiet air purifier for your bedroom, The BreatheSmart can work very well. At the lowest fan speed, it produces only about 41 dB, which is quieter than the computer noise.
At the highest level, the air purifier is a bit louder. It produces 56 dB at the turbo fan speed, which is similar to the sound of conversation. However, you are highly unlikely to use the top speed too often. It's usually necessary at the initial cleaning stages.
---
Is It Really That Smart? BreatheSmart Options
Alen equipped this model with three important smart options:
Air quality sensor – monitors the air quality and adjusts the fan speed accordingly
Sleep mode – reduces the fan speed and dims the panel lights
Filter change indicator – lights up when the filter needs to be replaced.
All of the above options are excellent for worry-free air purifier operation.
---
Pros:
Large room coverage
Low filter replacement costs
Air quality sensor
Quiet operation
Impressive filtration options
Lifetime Alen warranty
Cons:
High initial cost
Large and heavy
---
To Buy Or Not To Buy? Final Thoughts
The Alen BreatheSmart is an excellent option for people, who are looking for a high-quality air purifier with formidable room coverage. It provides excellent filtration, doesn't make much noise, and fits into any décor.