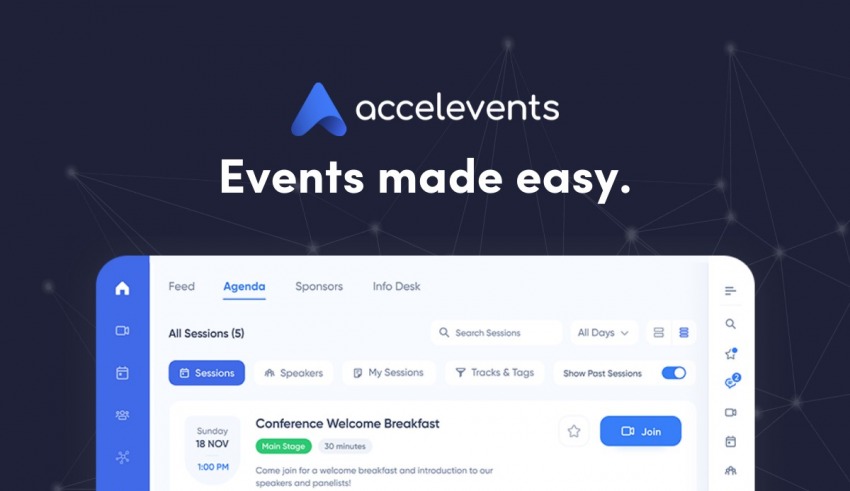 Whether it's due to physical, environmental, or situational circumstances, there are times when you may not be able to attend in-person events such as conferences or social gatherings. Thankfully, online platforms are evolving rapidly these days and accessible methods to connect with individuals are increasing.
There are times when you must've thought about whether you could meet people and authentically connect from the confines of your home. Well, this dream of yours can now be 100% true. Accelevents is an all-in-one event management platform with which you can participate in various events and conferences. The Accelevents platform is extremely intuitive and offers robust features to seamlessly host events of any kind, from user conferences and career fairs to trade shows and fundraisers.
Features
Accelevents provides various features that are very easy to use to create successful events. Some of those features include:
In-Depth Analytics
With this feature, event organizers can instantly view registration performance and ticket sales directly from the event dashboard. You can download the analytics to strategically engage your attendees before, during, and after the event.
You can even access sessions to analyze live attendance numbers and average attendance duration data. With this, you can make informed decisions on your attendee personas and the type of content that you find productive. There is more analytics offered that you can discover once you try it and get adapted to it.
Customizable Booths and Expo Hall
One of the most productive features of Accelevents is the customizable exhibitor booths and Expo hall. With this function, exhibitors can build an interactive footprint with custom branding, messaging, logos, products, and downloadable materials.
The variety of exhibitor booths is immense. You can customize it however you like, create a name for yourself, video chat with attendees, and impress those who follow you.
Live Broadcasting
As we said before, all kinds of events are available on this platform. Live streaming has been pretty famous these days—big platforms like YouTube and Zoom are some examples of renowned streaming areas.
Using Accelevent's broadcasting system you can broadcast video sessions. This feature is very effective as the backstage area allows the speakers and moderators to communicate before going live, and session recordings are available to download within minutes.
If you prefer using some other third-party software, then there is no problem. Accelevents is in partnership with all famous streaming software like RTMP, Zoom, Facebook Live, YouTube, Wistia, and Vimeo. If you have recorded content, then you can upload the file directly into the back-end of your session.
With the help of the Accelevents integrated broadcasting software or other third-party software, you can create an endless number of events within minutes without facing any technical difficulties because all these software platforms are very handy and easy to use.
24/7 Customer Support
Even if you are a beginner, there should be no problem understanding the website and creating an event. But we know some people are not associated with technology too much, or there can be problems that you may face even if you are a pro. Well, no need to worry a bit. Accelevents provides 24/7 live customer support which will resolve all your queries about event management.
Accelevents' highly experienced team is trained to solve common challenges that you may face. Their major goal is to deliver the best value and experience to every stakeholder within every ecosystem.
Accelevents takes great pride in its market-leading chat response time. Voted by G2 as "The Highest Quality of Support" and "The Easiest To Do Business With," their level of commitment to your success is the foundational pillar they were built on.
Suppose you are facing problems and need some additional assistance. In that case, Accelevents' Dedicated Event Support team notifies the success pros to work closely with your team to ensure all of your event technology logistic requirements are met. From training before the event or assistance during the event, Accelevents have your back all the way through.
Types of events and experiences
Accelevents is a platform where you can create and experience all kinds of events. Events that you can make are user conferences, trade shows, fundraisers, seminars, career fairs, product launches, and social gatherings. All these events can easily created just by using one single software.
There are two types of events that you can create with Accelevents: virtual events and hybrid events.
Virtual events
You can create an interactive virtual event without any difficulties with the event technology platform. Accelevents provides an astonishing user experience for all users, which includes hosts, listeners, attendees, and others.
Through Accelevents, you can host meetings that create an environment that creates an authentic connection between the members even after the conference has ended.
Hybrid events
With hybrid events, you can surpass boundaries by adding virtual attendees to your in-person event, making the event more accessible. By allowing attendees to create meaningful connections, have interactive experiences, and enhance engagement online, it doesn't matter in which corner of the world they are located.
Some amazing features of hybrid events are that it allows attendees to connect, engage, and build meaningful relationships that will not only last during the event but after the event is too. Accelevents creates a sense of community around your event, which conquers the trust of each other, and this bond will last until your next event.
Have an upcoming event? Request a demo and get started today with Accelevents!