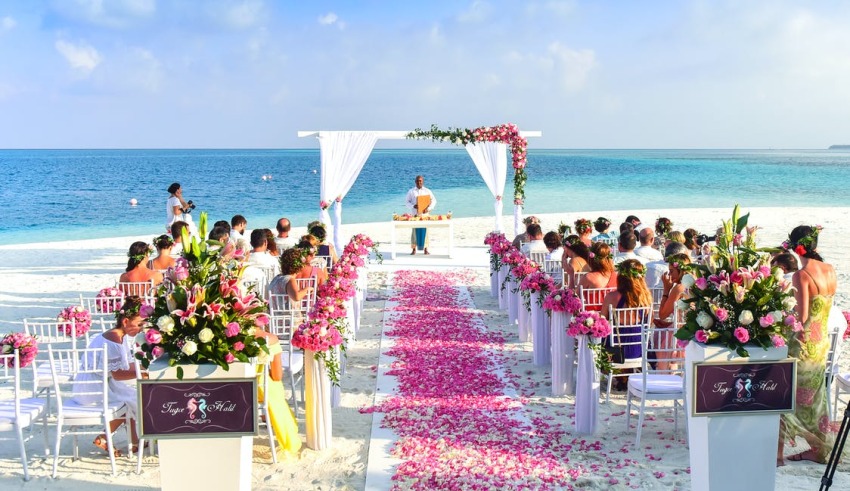 Many people dream of a perfect wedding, but perfection comes with a price tag. Organizing such an event costs a pretty penny even if you are not going to buy a dress from Carolina Herrera and invite 250 people to a fancy restaurant. It's crucial to think about how to fund your wedding in advance. Here are ideas that can be helpful.
1. Find a Source of Additional Income
Perhaps you can't get a higher salary at your current job. That said, you can try to find a source of extra income that will help you to cover the wedding expenses. Getting a second job to open your own business can improve your financial situation significantly. You can make money by teaching what you are good at, opening a small online business, or becoming an influencer on social media.
What if there isn't enough time to earn some more? In this case, you can look into taking out a wedding loan. On platforms like GetCash.com, you will be able to connect with different vetted lenders and get up to $5,000 as a personal loan. Don't fret if you have a bad credit score since many lenders will be glad to consider providing a loan regardless of the score.
2. Sell Older Belongings
It is a go-to for those who might have some old items such as heirlooms or antiques. Get them appraised and sell them to fund your wedding. We also recommend that you don't settle for any antique dealer or consignment shop. You are likely to get a much better deal after talking to an appraiser when you know what exactly your older belongings are worth. Look for professionals with good reviews to meet with someone who will give you the right appraisal on your first visit.
3. Set Up a Crowdfunding Campaign
Here is one more method to collect money for your wedding. You can create a crowdfunding campaign and share it on social media. Explain what you're going to use the money for, and tell about your couple. Don't forget to include photos of you together. Keep in mind that crowdfunding is still a relatively new thing.
Try to include phrases like "help us organize our dream wedding" and "instead of a wedding gift" so that everyone understands why you want them to donate money. In addition to posting the campaign on your Facebook and Instagram, you can also email it to your friends, family, colleagues, basically, everyone you know.
4. Get Involved Yourself
Organizing a fabulous wedding with a limited budget is also possible. In this case, you need to put a bit more effort into it. For instance, instead of hiring a team of professionals to decorate your wedding, you can do it yourself. There are many decorative items on Amazon you could make use of. For instance, fancy wedding invitations, table number holders, candles, balloons, etc. If you have enough time, you will enjoy the preparation.
5. Postpone Your Honeymoon
Usually, wedding expenses consist of two major parts — the wedding itself and the honeymoon. If you calculate how much money you need for both, you might be shocked by the number. But what if you separate them? After you get married, your daily life will likely feel like a honeymoon. There is no urgent need to fly to Hawaii or go on vacation in Italy. This way, you will have time to earn some money after your wedding celebration and pay for the honeymoon without financial troubles.
6. Pick Your Wedding Date Carefully
According to statistics, Saturday is the most popular day for weddings. No wonder it's also the most expensive. How about a celebration on Sunday or any other day? Another idea that may help you save money on your wedding is to inquire about unbooked dates that your desired wedding venue may be trying to fill.
One more thing to consider is the season. Autumn weddings are the cheapest since there are a lot of fruits and vegetables available for low prices. Meanwhile, a celebration in winter can cost you an arm and a leg for the same reason.
7. Ask Your Parents for Help
It is probably the last thing you want to do when preparing for your wedding. But sometimes, you might need to ask your parents to help you financially. If you want to stay independent, you can make a deal and promise to return everything by a specific date. You can even make it official and thus ensure your parents know that you take it seriously.
Here is another idea. There is a high chance that your family is preparing some significant gifts for your wedding. For instance, it can be a car or something expensive for your house. Let them know beforehand that you would be much happier to get the money they will pay for the gift. Your parents will most likely be pleased to give you something you really need.
8. Rent and Return
There is a high likelihood that one won't need most things they bought for their wedding after the ceremony. Nowadays, most of these things are put up for rent which is an excellent opportunity to save money. You can rent a wedding gown, suit, furniture, tech equipment (speakers, light, etc.), artificial floral decorations, and many other items.
Wrapping Up
One of the best ways to fund your dream wedding is to start saving money for it in advance. Opening a separate bank account for it can be a solution worth looking into. Furthermore, it is also a great idea to prepare for the event beforehand as last-minute weddings are usually much more expensive.
Lastly, if you want to celebrate your love as soon as possible, you can always apply for a loan and get as much money as you need. Fortunately, there are numerous platforms nowadays that connect borrowers and lenders and make it possible to take out a loan even if one's credit history isn't that great.